Check back soon for more titles!
Click on a book's picture for complete details, including price & Kindle availability: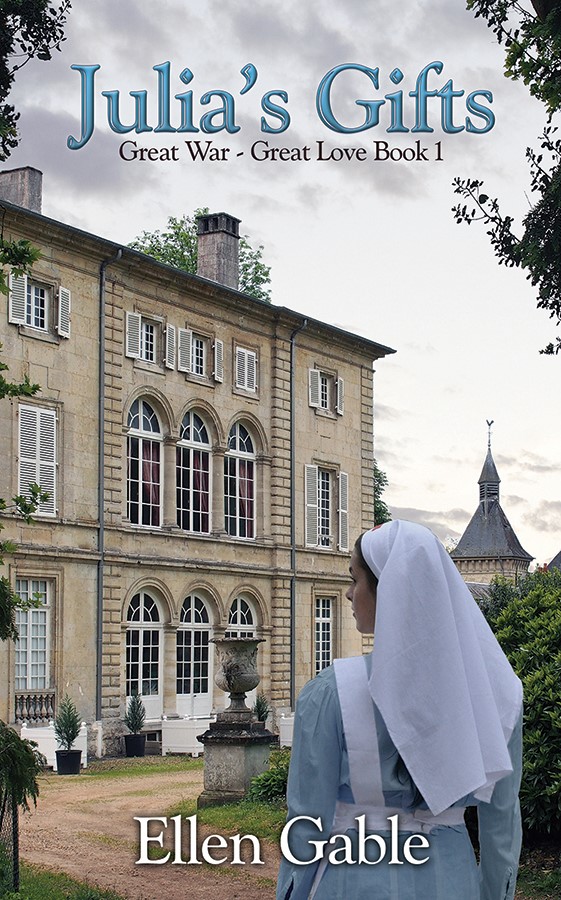 Julia's Gifts (Great War Great Love, Book 1)
by Ellen Gable
From Philadelphia to war-torn France, follow Julia as she transitions from unworldly young woman to compassionate volunteer. Disheartened by the realities of war, will she recognize her true "Great Love"?
---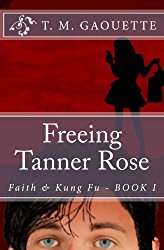 Freeing Tanner Rose (Faith & Kung Fu, Volume 1)
by T. M. Gaouette
Will Gabriel's faith encourage Tanner to change her partying ways, or will her wild undertakings and addicting vices tempt him to do things he'd never, ever considered before?
---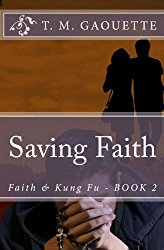 Saving Faith (Faith & Kung Fu, Volume 2)
by T. M. Gaouette
Can Gabriel save his best friend's sister Faith from self-created destruction, or is he just too lost in his own worldly struggles to lend a hand?
---

The King's Prey: Saint Dymphna of Ireland
(God's Forgotten Friends)
by Susan Peek
An insane king. His fleeing daughter. Estranged brothers, with a scarred past, risking everything to save her from a fate worse than death.
---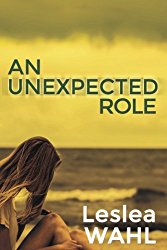 An Unexpected Role
by Leslea Wahl
The devastation of a ruined summer. The gift of a second chance. Can 16-year-old Josie learn the lessons she needs in order to discover her true self?
---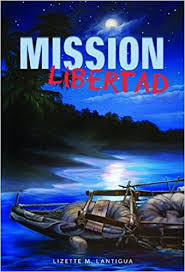 Mission Libertad
by Lizette M Lantigua
Fact and fiction converge in this thrilling tale of 14-year old Luisito Ramirez, a courageous boy who daringly escapes from 1970s communist Cuba as he becomes immersed in American culture and carries out a secret religious mission under the eyes of spies.
---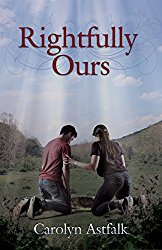 Rightfully Ours
by Carolyn Astfalk
As teens Paul and Rachel work side by side to uncover what could be lost treasure, will they acquire the strength of character and virtue to take only what rightfully belongs to them–or are they in way over their heads, with more than a few lost artifacts at stake?
---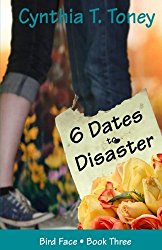 6 Dates to Disaster (Bird Face Series, Volume 3)
by Cynthia T. Toney
In the final months of ninth grade, Wendy discovers a cryptic note, her family faces financial hardship, and she fears she might lose everything she's counted on for the future–including her boyfriend.
---

Agnes' Gift by Kristelle Angelli
On Christmas Eve, an angel appears to take Jenna on an extraordinary journey through the mysteries of the Rosary, and she must decide if there is more to the Faith of her childhood than she previously thought.

Battle for His Soul by Theresa A Linden
When Jarret West's life begins to fall apart, his guardian angel Ellechial hopes now is the time for his conversion. Jarret must be freed from the deep clutches of Deth-kye, the demon bent on seeing him in hell. The fate of several others depends upon Jarret's conversion. Who will win the battle for Jarret's soul?

7 Riddles to Nowhere by A.J. Cattapan
With the arrival of a letter, seventh grader Kameron Boyd learns that he and several others have been selected as potential heirs to a fortune. He just has to solve a series of seven riddles to find the treasure before the other students. If he succeeds, he'll become heir to a fortune that could save his school.

Days of Darkness by C.D. Verhoff
As the world slips deeper into darkness, the gulf between the godly and the godless widens, leaving no middle ground. Gina Applegate must choose a side.

Unclaimed (The Memoirs of Jane E, Friendless Orphan Book 1) by Erin McCole Cupp
Born into a future of cloning and bioterror, could Jane Eyre survive? This Jane is an "unclaimed embryo," and at age ten she is sold into slavery as a data mule. She must fight for freedom and identity in a world mired between bioscientific progress and the religions that fear it.

Bane's Eyes (I Am Margaret Book 4) by Corinna Turner
In three months, the citizens of the EuroGov will decide whether or not to abolish Sorting, the grim annual harvesting of "imperfect" teenagers for their organs. If they vote the wrong way, then Margo and everyone she cares about will die.

Life-Changing Love by Theresa A Linden
Caitlyn Summer, soon to be fifteen, must practice old-fashioned courtship with high parental involvement, but she has a terrible crush on shy Roland West and she has competition from a girl with no restrictions.

Sunflowers in a Hurricane by Anne Faye
When Cheryl and Ruth move next door to George, the older man and young girl form an unlikely friendship as all three are forced to face the past in order to create a new future.

A Distant Prospect by Annette Young
In 1928 Sydney, Australia, an Irish school girl finds new hope, after polio and personal tragedy, while playing cello in a string quartet.
A blaring fire alarm wakens teen students from Chisbrook Hall girls boarding school in the dead of night, but the real nightmare is just beginning.
Because 'al-Qabda' are taking them all away.
Whether they want to go or not.

The Paradise Project by Suzie Andres
Like Elizabeth Bennet before her, Liz Benning takes pride in her resourcefulness, but when she resolves on a yearlong project to be happier, it looks like her ambition has outrun her abilities…Enter a love interest more conniving than Wickham, a blonde cold enough to freeze out Caroline Bingley, and Elizabeth's paradise project is heading for disaster.

The Rose and the Sword (The Veritas Chronicles, Volume 2)
by Gina Marinello-Sweeney
Can a rose survive in winter?
Rebecca Veritas is a new college graduate, eager to pursue her dreams as a clinical psychologist. As she adjusts to her new surroundings in the big city of Los Angeles, she finds solace in a mysterious antique bookstore. Yet, as her thoughts still linger on someone from her past, she is unaware that the present has the potential to haunt her the most.

Darker the Night by Lisa London
Inspired by a true story, this fascinating tale tracks an extraordinary young woman persevering through the challenges of growing up in Hitler's Germany. Hedy finds herself assembling airplanes, dodging bombs, battling hunger, and standing up to invading tanks. As the pride in her country is shattered with the news of the Nazi atrocities, her father reminds her, "The darker the night, the brighter the stars." Is her star the charming American Counter-Intelligence Agent who keeps appearing in the oddest places?

Jacob of the Thundercloud by Zoran Majstorovic
When lightning hits his house, Jacob, an ordinary teenager, ends up in Ancient Egypt. He's thrilled at first, but there's one very big problem: Jacob is a devoted Catholic–and Egypt in ancient times isn't the best place for Catholics.

Now and at the Hour of Our Death by JSB Morse
Mary Credence wants to be a modern day Joan of Arc battling the skeptical world around her. But when the ardent virgin finds herself pregnant, she's thrust into a much bigger fight than she ever imagined.

Order of the Blood: The Unofficial Chronicles of John Grissom by Page Zaplendam
When a vampire's abilities and defects never fully develop, taking on the head of England's biggest vampire sect could be a bad idea. Ever since he was turned, John Grissom has worked to find a cure for the disease. He, his newly acquired assistant Henrietta, and the Prussian Van Helsing, a veteran vampire hunter, must seek out the elusive vampire lord before he succeeds in dramatically influencing the outcome of the war.
Read Catholic-Fiction.com's review here.

A Single Bead by Stephanie Engelman
On the anniversary of the plane crash that took the life of her beloved grandmother and threw her own mother into a deep depression, 16-year-old Katelyn Marie Roberts discovers a single bead from her grandmother's rosary–a rosary lost in the crash. A chance encounter with a stranger launches Katelyn and her family on a quest to find the other missing beads.

Treachery and Truth: A Story of Sinners, Servants, and Saints by Katy Huth Jones
This gripping YA historical novel tells the story of a remarkable teen through the eyes of his servant, Poidevin, who came to faith because of the example of his godly young master. Immersed in the historical background of tenth century Bohemia, this true tale of Good King Wenceslas pulls the reader into the struggles and danger of the Dark Ages.

Maiden General: How a 17-year-old Girl Saved France at Orleans: A True Story
by Mike MacCarthy
Joan, 17 years old and a pious young woman, runs away from home in order to attempt an impossible mission from God–have herself appointed as a French field general and lead her country to victory over the English.

The Perfect Blindside by Leslea Wahl
Championship snowboarder Jake has been dragged by his parents to a middle-of-nowhere town in Colorado, where he meets Sophie. Smart and savvy, she has no patience for his inflated ego. Can Jake and Sophie work out their differences to discover what's really been happening at the abandoned silver mine?

Frozen Footprints by Therese Heckenkamp
When Charlene's twin brother disappears and a ransom note shows up, her world is shattered. Fearing the worst, she determines to find her brother before it's too late. Her quest hurls her into a twisted, frigid world of icy terror.
View the book trailer

Roland West, Loner by Theresa Linden
Despised by older twin brothers, new to River Run High, friendless, and the subject of cruel rumors . . . Roland West has a plan . . .

8 Notes to a Nobody (The Bird Face Series, Volume 1)
by Cynthia T. Toney
Wendy Robichaud doesn't care one bit about being popular like good-looking classmates Tookie and the Sticks–until Brainiac bully John-Monster schemes against her, and someone leaves anonymous sticky-note messages all over school. When secrets and failed dreams kick off the summer after eighth grade, who will be around to support her as high school starts in the fall?

10 Steps to Girlfriend Status (The Bird Face Series, Volume 2)
by Cynthia T. Toney
Wendy Robichaud is on schedule to have everything she wants in high school: two loyal best friends, a complete and happy family, and a hunky boyfriend she's had a crush on since eighth grade–until she and Mrs. Villaturo look at old photo albums together. Discovering a long-ago scandal, Wendy digs into the past and into trouble…

A Soldier Surrenders: The Conversion of St. Camillus de Lellis
by Susan Peek
Soldiering, gambling, brawling, drinking. As a young man, Saint Camillus excelled at them all. Add to that his fiery temper and innate knack for getting in trouble, and Camillus de Lellis seems the last person who could ever achieve holiness! But God had plans for the stubborn young soldier, whether Camillus liked it or not . . .
Read Catholic-Fiction.com's review here.
Trapped between alternating periods of utter darkness and light, 17-year-old Nanette is stuck following a high school freshman around. Soon, she learns she's a guardian angel, and the only way she can earn her wings is to keep her young charge, Vera, from committing the same sin she did–taking her own life.

I Am Margaret (Volume 1) by Corinna Turner
In Margo's world, if you don't pass your Sorting at 18 you are recycled. Literally.
Margaret Verrall dreams of marrying the boy she loves and spending her life with him. But she's part of the underground network of Believers–and that carries the death penalty.

The Three Most Wanted (I Am Margaret, Volume 2) by Corinna Turner
2000 kilometers. Three young adults. A continent-wide manhunt. Chace of survival? No chance. Having outwitted the EuroGov by rescuing an entire facility of teens destined for recycling, Margo is on the run.

Liberation (I Am Margaret, Volume 3) by Corinna Turner
In the Vatican's hidden place of exile, Margo and her fiance, Bane, hatch a daring plan: use Vatican strike teams to liberate teenagers destined for human 'recycling'–to start a public outcry against Sorting. But if they succeed, the EuroGov's vengeance will be swift and merciless.

The Story of Peace by Miriam Ezeh
As conflict looms between two rural African villages, a woman fights to keep her brother from getting involved in the violence. In an attempt to protect him, she turns to her friends for help but encounters something unexpected . . .

Crusader King: A Novel of Baldwin IV and the Crusades
by Susan Peek
A powerful historical novel about the unusual life of King Baldwin IV of Jerusalem, the leper crusader king who – despite ascending to the throne at only 13, his early death at 24 and his debilitating disease – performed great and heroic deeds in the face of seemingly insurmountable odds.
Read Catholic-Fiction.com's review here.

Ten Commandments for Kissing Gloria Jean
by Britt Leigh
Enter into the life of Gloria Jean Wisnewski: a 14-year-old girl who comes up with a very specific set of rules for what thou shalt and thou shalt not do to be granted her long-awaited first kiss.
In the throes of growing up and growing apart, Katie discovers the most unusual boy swimming in her lake and for the first time in memory, she connects. John is refreshingly old-fashioned and wise in ways Katie has never encountered before, but it's clear he's hiding something…
Read Catholic-Fiction.com's review here.

Awakening (Crossroads in Time Book) by Claudia Cangilla McAdam
When teenager Ronni takes ill, she awakens in 1st-century Jerusalem, two days before the crucifixion. Realizing that she knows what is going to happen to Jesus when no one else does, she goes about trying to stop the crucifixion. The questions are: Can she do it? Should she?

Still That Girl by Rebecca Dominick
Katarina Anderson and her best friend, Abigail Dunham, are off for a summer vacation. But the smallest thing can change everything…even something as small as a phone call. Abigail proves what an amazing best friend she is by always being there for Katarina, while all Katarina can think of is what could possibly go wrong next.
Young teens Molly and Theresa set out to discover the origins of a mysterious Irish Claddagh ring, but they unearth a story that is far stranger and infinitely more touching than anything they could have ever imagined.
Read Catholic-Fiction.com's review here.

Past Suspicion by Therese Heckenkamp
"Don't trust anyone . . ."
So whispers Robin's mother just moments before she dies, setting in motion the intriguing story of a 17-year-old on a quest to unravel the dangerous secrets of her mother's past.

Waking Rose: A Fairy Tale Retold by Regina Doman
Nineteen-year-old Rose Brier is in love with Fish Denniston: but Fish, struggling with abuse issues in his past, holds her at arms' length until an old danger and a tragic accident threatens Rose's life. A modern retelling of the story of "Sleeping Beauty," and the third novel in the Fairy Tale Novel series.

Catholic, Reluctantly (John Paul 2 High, Book 1)
by Christian M. Frank
One start-up school, seven mismatched kids, one sinister shooter, and the Catholic Faith.
Almost no one wants to be at John Paul 2 High, a tiny new high school run by parents.

Trespasses Against Us (John Paul 2 High, Book 2)
by Christian M. Frank
When George Peterson starts dating Allie Weaver, harassment from her old boyfriend escalates into cyberstalking until George feels events leave him no choice but to take matters into his own hands.

Summer of My Dissent (John Paul 2 High, Book 3)
by Christian M. Frank
Grieving for her murdered friend, Allie feels lonely and distant from her classmates and the new kids at her school. But when she finds healing at a local evangelical church, she begins to question her Catholic faith.

Undercover Papist (John Paul 2 High, Book 4)
by Christian M. Frank
Dispatched to Bible camp to rescue Allie Weaver from Protestantism, Brian Burke tries to win his JP2HS classmate back to the Catholic Church–but he and Allie both have much to learn about God and faith.

Near Occasions (John Paul 2 High, Book 5)
by Christian M Frank
Liz &J.P. just wanna have fun, running a prank war and staying cooler than the school. But danger is near, and actions have consequences.
Cracks in the Ice by Deanna Klingel
Gina Mangalli, niece of a mafia don, has dreams of Olympic gold as a figure skater. When tragedy strikes, her life spins out of control, and then a rash decision changes Gina's life forever.
The DNA Connection: Tannenhauser's Theory by Joan L. Kelly
A group of high school students on a field trip see more than they expected when they are pulled back in time. Each one meets someone from his or her family's past and learns what it took to get to where they are today. They learn about love and sacrifice.
Emily's Hope by Ellen Gable
Note: Recommended for older teens.
Emily's Hope is the gripping story of one young woman's physical, emotional, spiritual journey from high school to adulthood. Interspersed throughout the story are flashbacks to Emily's great-grandmother's troubled life, with a climax culminating in the surprising revelation that Emily and her great-grandmother are connected more deeply than by ancestral ties alone.
Finding Grace by Laura Pearl
At the age of thirteen, Grace Kelly (who has been saddled with the name of a world-renowned beauty, but is far from one herself ) is inspired by an offhand comment from her father to become a saint. But coming of age and falling deeply in love for the first time in the early 1970's–in the wake of the 60's "sexual revolution" and the historic Roe v. Wade decision–presents true challenges for young people who are trying to live chastely. Grace realizes that without the help of God, the Blessed Mother, and all the saints in Heaven, navigating the thorny path to sainthood would be an almost insurmountable task.
Read Catholic-Fiction.com's review here.

The Gate by Nancy Carabio Belanger
For smart-aleck Josh, being a Christian in the eighth grade is completely irrelevant, especially with the temptations that middle school can bring. When his teacher assigns a pen-pal project, Josh meets Pie, a spunky senior citizen with a love of his Catholic faith, Saint John Bosco, and the New York Yankees. But much to Josh's surprise, Pie creates his own project for Josh, and Josh realizes that God has a plan–even for him.
The Hidden Treasure of Glaston by Eleanore M. Jewett
Amidst great mystery, Hugh is left in the care of Glastonbury Abbey by his father who must flee England too swiftly to be burdened by a crippled son. Ashamed of his physical weakness, yet possessed of a stout heart, Hugh finds that life at the abbey is surprisingly full in this year 1171, in the turbulent days of King Henry II.
Hiding the Stranger: The Trilogy by Joan L. Kelly
When Katie Rivers discovers an unconscious teenager on the family farm, she and her siblings find themselves involved in intrigue and possible danger…. The quest that started on a small Illinois farm culminates at the historic Union Station as we see how one boy's fate is changed by another's act of total self-sacrifice.

I Thirst by Gina Marinello-Sweeny
Twenty-year-old Rebecca Veritas is used to being different, but has never felt extraordinary. She is a Dreamer, living in a world of poetry intermixed with the antics of her unique family and eccentric best friend Adriana. When she meets Peter, a young student from Canada who seems somehow to understand her from the start, her perception changes.
Read Catholic-Fiction.com's review here.
Little Flowers by Kathryn Lively
Note: Recommended for older teens.
A doctor known for performing abortions – murdered. A teenage honor student from a good Catholic family – pregnant. A barren young woman soured on relationships – unwilling to love. One bullet, one week changes the lives of so many people. Discover which of life's "little flowers" bloom in the face of adversity and strengthen through hope and forgiveness.

The Locket's Secret by K. Kelley Heyne
Caught living in a world between fantasy and reality, Carrie, a 13-year-old homeschooled girl, struggles to make sense of loss and new beginnings, seeking comfort in a heart-shaped locket…with a secret.

Saint Magnus, The Last Viking by Susan Peek
In this fast-paced new novel by the highly popular Susan Peek, the conflict unfolds between Magnus Erlendson, a heroic young prince aflame with the love of God, and his outlawed cousin Hakon, who blames Magnus for his banishment from their kingdom. What follows is a tale of betrayal and revenge, bravery and forgiveness, as Magnus seeks to restore his father's vanquished kingdom to it's rightful hands.
Read Catholic-Fiction.com's review here.

The Midnight Dancers by Regina Doman
When teenaged Rachel Durham finds a way that she and her eleven stepsisters can sneak out of their Chesapeake Bayside home after midnight, their troubled fundamentalist father enlists the help of Paul Fester, an ex-soldier and traveling juggler, to find out what the girls are up to. A modern retelling of Grimm's fairy tale "The Twelve Dancing Princesses."
The Misplaced Spy by Elizabeth Altham
Joanie O Connor wasn't looking for danger; she was just trying to finish her book report. The rural village of North Salisbury, Connecticut in the early 1980s is the ideal setting for Joanie's responsible approach to her life as a devoted daughter, sister and student. When the old librarian, Miss Peterson, mysteriously falls ill, Joanie is unwillingly drawn into a Cold War conflict involving international spies, and the threat of murder.
The Priest and the Peaches by Larry Peterson
Historical fiction novel set in the Bronx in the mid-1960s.
Take a seven day journey with the five, newly orphaned Peach kids, as they begin their struggle to remain a family while planning their dad's funeral. They find an ally in the local parish priest, Father Tim Sullivan, who tries his best to guide them through the strange, unchartered and turbulent waters of "grown-up world." A story that is sad, funny, and inspiring as it shows how the power of family love and faith can overcome seemingly insurmountable obstacles.

Rapunzel Let Down: A Fairy Tale Retold by Regina Doman
A teen summer romance in New England has disastrous consequences when the daring son of a conservative senator forms a secret relationship with the isolated daughter of a reclusive scientist. A modern retelling of the classic tale 'Rapunzel.'
The Rose Round by Meriol Trevor
Young Matt Rendal's first experience with the extraordinary inhabitants of the great crumbling house called Woodhall was terrible. What had he done to deserve being sent here?
The Shadow of the Bear: A Fairy Tale Retold by Regina Doman
When Bear, a mysterious young man, lands on Blanche and Rose Brier's doorstep in New York City, the two sisters have conflicting opinions on whether or not he is dangerous. Even as Blanche learns to trust him, her fears that Bear's friendship threatens their family prove terrifyingly true. A modern retelling of the classic Brothers Grimm fairytale.

To Be Or Not To Be… Murdered! by Basia Kent Belroy
Why is Fulton High School having a mysterious rash of copycat suicides? Or could they be murders? Peyton Simons is starring as Ophelia in her high school's production of Hamlet, opposite cute Justin Christopher as Hamlet. She and Justin are also attending the same confirmation class at Saint Paul's, where they are learning about the evils of revenge and the importance of forgiveness. But something is rotten in the state of Fulton High. It seems the soccer stars on the school's team are hanging themselves from an old tree on campus.

The Tree of Healing by Diana Gonzalez Tabbaa
One golden summer, as Rose leaves her childhood years, her grandmother and a heaven-sent friend teach her to bring everything in her life to God in prayer and to bring His Life into her own. She comes to know and trust Him deeply, especially when she discovers a carving made by her father in a great tree that forms the crucifix of a Rosary Garden.
The Tripods Attack! (The Young Chesterton Chronicles) by John McNichol
They are coming! Sixteen-year-old Gilbert Chesterton is orphaned and friendless, stuck working a menial job in grimy turn-of-the-century London. Then one night strange lights fill the sky, and a hail of giant meteors crashes into a field outside the city. The next day Gilbert is amazed to find himself hired by a newspaper and rushed out to investigate the scene. Is it a harmless natural phenomenon, or the first wave of a Martian invasion?
Under a Changing Moon by Margot Benary-Isbert
Seventeen-year-old Paula has just left behind convent boarding school – to go home. She hasn't been back home for more than two years, and isn't quite prepared for her five rambunctious brothers, two eccentric maiden aunts, bibliophile uncle, and 89 year-old Babbett, not to mention the demands laid on her by energetic Mama. Her father, Judge Eisenberth, at first seems to be the only one who understands her frustration.