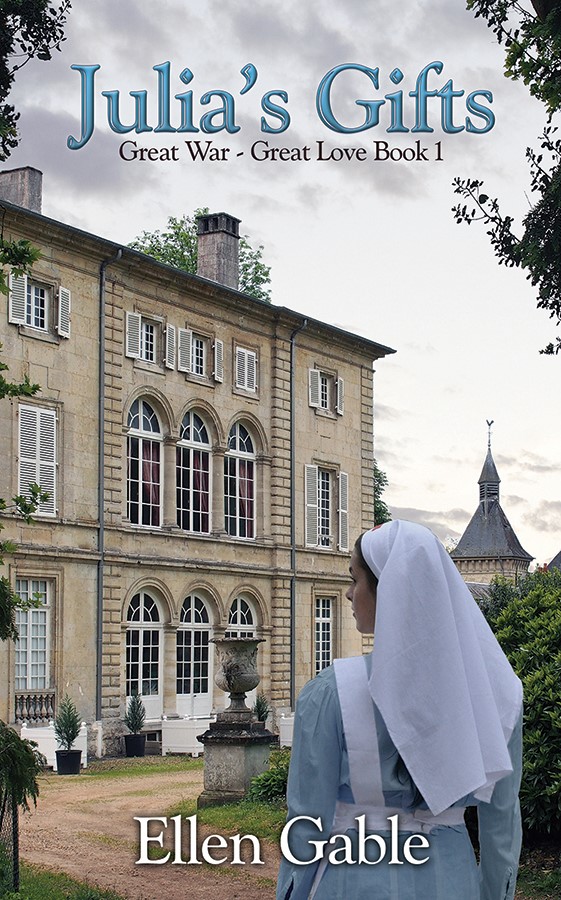 A brand new Catholic historical romance novel for teens and adults!
Julia's Gifts by Catholic author Ellen Gable is the first book in her new inspirational religious fiction series Great War Great Love.
From Philadelphia to war-torn France, follow Julia as she transitions from unworldly young woman to compassionate volunteer…
As a young girl, Julia began buying gifts for her future spouse, a man whose likeness and personality she has conjured up in her mind, a man she calls her "beloved." Soon after the United States enters the Great War, Julia impulsively volunteers as a medical aid worker, with no experience or training. Disheartened by the realities of war, will Julia abandon the pursuit of her beloved? Will her naïve "gift scheme" distract her from recognizing her true "Great Love"? 
Julia's Gifts makes a perfect Christmas gift and is available in both paperback and Kindle ebook.
Read the first few chapters for free right here!
What Catholic authors are saying about Julia's Gifts:
"A strong and tender Catholic historical novel about growing in maturity and fortitude while discovering the power of hope, self-sacrifice, and prayer. I read Julia's Gifts within two days, but this touching story of faith and devotion is sure to leave a lasting impression!"
–Therese Heckenkamp, award-winning author of Frozen Footprints and After the Thaw
"There is so much to treasure in this beautifully-written book: miracles of faith, the power of prayer, the strength of true love, and the grace in using one's God-given gifts to overcome seemingly insurmountable obstacles make this an outstanding and unforgettable book."
–Jean M. Heimann, author of Fatima: The Apparition That Changed the World
"Julia's Gifts is a sweet and touching love story laced with beautiful messages. Following Julia as she works overseas as a volunteer medical aid opened my eyes to the hardships of war and especially the great trials and sacrifices of the nurses and volunteers."
–Theresa Linden, author of award-winning Catholic teen fiction
---
An Interview with Ellen Gable:
The sonnets/poems in this story are beautifully written.  Tell us a bit about them.
Well, I'm not a poet, but my husband has written songs and poems. So I asked him if he would be willing to write sonnets for my book. I explained in detail what I needed the sonnet to express and he took it from there. The sonnets are a beautiful addition to this novel, especially because my husband wrote them.
Can you tell us about the next two books of the series?
Yes. Charlotte's Honor is Book #2 and takes place at approximately the same time as Julia's Gifts, but focuses on a different female protagonist, Charlotte, who finds her purpose in life when she begins working in the death ward and holding men's hands as they die. She is attracted to Canadian Dr. Paul Kilgallen. During an advance by the enemy, everyone at the field hospital evacuates, except for Charlotte and Dr. K. They remain hidden in the basement of the chateau to take care of the terminally ill men and those soldiers who can't be moved. Charlotte becomes convinced that Paul is her own "beloved." But when she loses contact with Paul, she fears not only for his safety, but begins to doubt his love for her. Charlotte's Honor will be released in late 2018.
Ella's Promise is Book #3 in the series. It is about the daughter of German immigrants, Ella, an American nurse who (because of the time period) was discouraged from continuing on in her studies to be a doctor. She works as a nurse for three years in Philadelphia but reads medical books every opportunity she gets. During the Great War, she travels to Le Treport, France to work at the American-run hospital. She meets her own beloved in the last place she would expect to meet him. Ella's Promise will be released in mid-2019.
Who are some of your favorite authors?
My favorite Catholic author is Dena Hunt (author of Treason and The Lion's Heart), but I also enjoy reading Willa Cather's books (Death Comes For the Archbishop).  Dena's books are incredibly well-written and moving. Cather's books are well-written and rich in meaning.
And while this may seem biased, I enjoy reading books by all the Full Quiver Authors. I also enjoy the books of the authors who are fellow members of the Catholic Writers Guild.
One of my favorite secular authors is Nelson DeMille (author of the John Corey series).  I also enjoy reading Kathleen Morgan's Christian historical novels.
---
Ellen Gable is an award-winning author, Marketing Director for Live the Fast, self-publishing book coach, speaker, publisher, NFP teacher, book reviewer and instructor in the Theology of the Body for Teens. However, the roles she loves the most are being wife to her husband and mother to their five sons, ages 18-30. Originally from New Jersey, Ellen lives with her husband of 35 years, James Hrkach, in Pakenham, Ontario Canada.
Follow the Julia's Gifts Virtual Book Tour here.