A brand new Catholic romance for teens and young adults!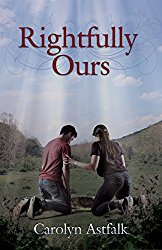 Rightfully Ours by Catholic author Carolyn Astfalk is a coming-of-age story of first love, buried treasure, and discovering some things are worth the wait.
A new home. A new friend. A mystery and adventure with serious consequences… 
As teens Paul and Rachel work side by side to uncover what could be lost treasure, will they acquire the strength of character and virtue to take only what rightfully belongs to them–or are they in way over their heads, with more than a few lost artifacts at stake?.
Rightfully Ours is available as a Kindle ebook and will soon be released in paperback as well.
Read the first few chapters for free right here.